Posted by ThatGirlShaeXo on Monday, February 16, 2009.
Heyyy everyone. Today's review is for the Lorac Full Face Collection which is available at Sephora. It comes with 16 eye shadows, 2 blushes, 1 highlight, 1 bronzer, and 3 lip glosses. Lets start with the shadows. They for the most part really have a good feeling and pigment to them, theres only a select few that I wasn't pleased with, but overall they show up very very well and blend nicely. It came in a cute case, its suppose to be used as a clutch but personally I would never use that as a clutch because it's really very bulky. This palette is perfect for traveling though! You really dont need to bring much else besides brushes, liner, mascara, ect. Its got all the basics. I always bring it with me when traveling, it just keeps everything together nicely and I dont have to worry if I forgot any shadows or blushes or lip gloss.



The Glosses:
I LOVE These! Theres a clear one with copper sparkles that are unnoticable (meaning you cant feel them at all, no grainy-ness haha). Then theres a peachy pink frosty one which has an amazing shine to it, and my favorite, the rosey pink one. They are such great quality I was really blown away. Theres no stickyness at all, the feel alot like NYX glosses. I was so pleased with these I use them aaall the time. I just wish they were a tad bit larger, I feel like I'm going to run out of them soon and Im not sure if they are buyable seperate from the palette.



Swatches:



The Look:
1. Take the first color that I have marked on the pallete in the picture below and apply it wet all over the lid.
2. Apply this color to only have of the lid, leaving the inner lid with just the 1st layer of shadow.
3. This is the highlight color, Apply it all beneath the eyebrow and blend it in to the lid color.
4. Last but not least, the 4th color I have marked, apply it in the outer corners of your eyes winged up. (Trick: apply tape from the bottom lid up to your eyerbow diagnoly so that it creates that straight look effect, remove when looks done). Apply wet in the outer corner first so that its very dark, drag it out to the inner corner, blend it in with your lid color.
5. Apply eyeliner, mascara, and her's the finished product :)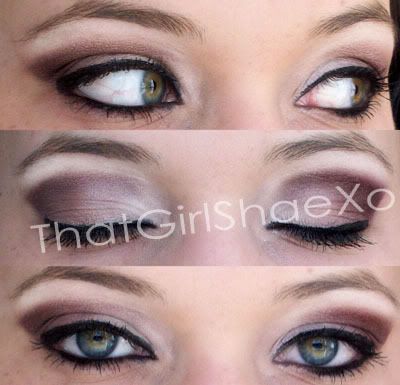 Video Review:


:)<3